Banda Sea Biodiversity Cruise
May 3 - May 19, 2010
Join award-winning underwater videographer Kris Wilk on this documentation expedition!
This expedition includes unlimited FREE NITROX for all participants!
Overview
This 16-day expedition aboard the Pindito covers an astonishing 1100 nautical miles across the Banda Sea from Sorong to Maumere. Few liveaboards dare to offer itineraries of this duration or distance, and none with as much experience as Pindito.
We call this trip a biodiversity cruise for good reason: it reaches almost a dozen distinct regions that could each be the focus of an entire expedition! There is muck diving at Banda Neira, mandarinfish at Maumere, and teeming sea snakes at Gunung Api. But that's just the tip of the iceberg! This expedition transits the absolute epicenter of marine biodiversity in Raja Ampat.
To put in perspective how rare an opportunity this trip is, consider that Pindito offers only two per year, and they are completely booked for at least the next 2 years. You simply cannot find this experience anywhere else!
Tentative Itinerary
Due to the unique nature of this rare journey, it does not have a regularly-scheduled itinerary. Instead, the crew of Pindito, in association with ReefNet, will be customizing a route that lets us explore the most spectacular sites of the Banda Sea as we travel from Sorong to Maumere.
Although the precise itinerary is not yet defined, the following areas are included:
Sorong - if time and circumstances allow, explore a World War II airplane wreck
Mansur - expect to see large schools of snapper and mackerel, barracuda, mantas, batfish and sharks at this gem in Raja Ampat
Misool - the quintessential tropical paradise...limestone pinnacles jutting out of the water, draped in vegetation and surrounded by reefs overflowing with marine life
Pulau Koon - strong currents bring dolphins, mantas, sharks, mobulas and more to this deep ocean channel
Manuk, Gunung Api - "island of the sea snakes"...see dozens of sea snakes on a single dive, sometimes hunting in packs!
Seroea - a volcanic island rising deep out of the Banda Sea, in complete isolation
Terbang Islands - dived only by Pindito since 2003, the reefs here are absolutely untouched
Ramong - volcanic underwater terrain covered in soft corals, sponges and sea fans...excellent as a night dive
Wetar - regular sightings of dolphins, whales and other pelagics along pristine drop-offs and reefs
Alor - both drift diving along walls and leisurely macro-centric sites
Kawula, Pantar - blue water with drop-offs, excellent night dives, and a visit to a local village
Maumere - muck diving, with a focus on pipefishes, seahorses, frogfishes, nudibranchs, etc.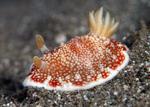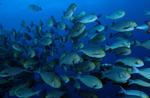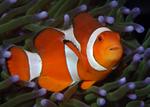 Pricing & Reservations
The price of the Banda Sea Biodiversity Cruise is $5800 per person. There is a strict maximum of 16 participants (including ReefNet staff) permitted on this expedition.
If you have any questions, or to reserve one or more spaces on this expedition, please contact us. Reservations are made on a first-come, first-served basis, and a deposit is required to secure your space(s). For more details, refer to our Terms & Conditions.
Inclusions & Exclusions
The price of this expedition includes:
Diving, including unlimited FREE NITROX is included for all participants
Meals, snacks, and drinks including beer (wine and cocktails extra)
Accommodations (double-share cabin)
Scheduled land excursions
Airport transfers
Not included:
Connecting airfare and hotel stays (see below for our recommended travel booking agent)
Dive gear rental (other than tanks & weights)
Fuel surcharge of $350 (subject to change)
National park fees (per person): Raja Ampat $70, Banda Sea $25, payable on board (subject to change)
Gratuities
Travel Arrangements
Although expedition participants are welcome to book connecting flights and hotels privately, ReefNet highly recommends the travel booking services of our dedicated partner Reef & Rainforest.

Reef & Rainforest specializes in making travel arrangements to exotic destinations, and can save you a great deal of time, money, and aggravation. Because it's been assisting adventure travellers for more than 13 years, Reef & Rainforest has developed close relationships with many airlines, hotels, and tour operators. Nobody has more in-depth experience in as many regions!
In addition to the expedition itinerary, Reef & Rainforest can also make arrangements for exciting pre- and post-expedition adventures. Want to see wild orangutans? Hike to the top of a volcano? Swim at the base of a secluded waterfall? Just ask!
To make your travel arangements with Reef & Rainforest, contact them directly and tell them you're joining one of ReefNet's Dive Expeditions.