The only liveaboard with more than 15 years of operating experience Raja Ampat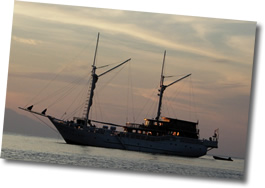 Although many liveaboards ply the waters of Indonesia, only Pindito can boast a truly pioneering history and the most experience in the region. Built under the watchful eye of entrepreneur Edi Frommenweiler over 15 years ago, Pindito was sailing through regions such as Raja Ampat years before the competition.
Specifications
Length: 33 m / 109 ft
Beam: 8.5 m / 28 ft
Cruise: 8 knots
Divers: Up to 16
Cabins, Lounge, and Camera Room
The Pindito offers six double bed cabins and two twin bunk bed cabins, all en-suite (private bathroom) and on the lower deck. All cabins were most recently refitted in 2006. Every cabin offers:
Individually controlled air conditioning
Portholes
Toilet and unlimited hot water shower
Hand basin, mirror, soap, and bath and deck towels
Round twin plug 220V mains outlet - 24 hours per day
Reading lights
Lots of storage space
The spacious dining lounge is air-conditioned, and offers a large flat-screen display for reviewing videos and photos, or to watch movies. Photographers and videographers will appreciate the on-board computer which you may use to download and burn your content.
The dedicated camera room is located mid-ship and may be accessed from either side of the vessel, or from the lounge. A large table and charging stations make life for even several phographers very comfortable.
Meals & Drinks
Many guests find it difficult to choose which they remember most about a trip on the Pindito: the diving or the food! Pindito's mixture of international and Asian fare is a delight for the senses...each meal is beautifully prepared and absolutely delicious.
Breakfast is served in two stages: a light continental-style before the first dive, and a full breakfast ready as you come out of the water. Lunches and dinners show off a tremendous variety of cooking styles and ingredients, although an emphasis on local options is made. Meat and fish dishes are accompanied by several side dishes from which you can choose, followed by a delicate dessert.
In between dives, you'll never find yourself hungry since there are always biscuits, cakes and other treats hot out of the oven.
Drinks are offered free and self-serve, including tea, coffee, and cold drinks from the fridge. Beer is also free, but only for consumption after the last dive of the day. Other alcoholic drinks are charged extra.
Diving
An average of 4 dives are scheduled per day (including a night dive), with some exceptions on travel days or for land excursions.
Diving operations are managed by Pindito's experienced diving instructors and dive guides. All dives are guided for safety reasons, but guides are careful to give you all the freedom you need and want. Staff are particularly mindful of photographers and will allow you to take time to work with subjects, and to move at your own pace. Assembled dive equipment is loaded by the crew onto zodiacs which transport divers to each site...no need to haul your own gear around!
The dive operation is well equipped with modern hardware and accessories: 2 compressors, nitrox membrane fill station, 3 zodiacs, forty 10 L tanks, and a full complement of dive gear for several divers.
Land Excursions
Every cruise includes the opportunity for at least one scheduled land excursion. However with advance notice, you are generally welcome to request a ride to shore if you'd prefer to explore land instead of sea!