One of the largest and most photo-friendly liveaboards in Indonesia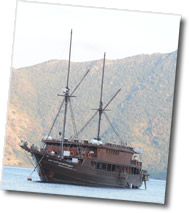 While the Archipelago Adventurer II has the air and appearance of a traditional Pinisi schooner, a closer look reveals a luxurious diving liveaboard that is unmatched in size and comfort. Its expansive and well-appointed cabins hardly feel like those of a typical liveaboard, and the plentiful lounge and camera work space mean that guests are never cramped, nor inconvenienced...even with a full boat!
Specifications
Length: 35 m / 116 ft
Beam: 10 m / 32 ft
Cruise: 8 knots
Divers: Up to 18
Cabins, Dining Lounge, and Camera Work Area
The Archipelago Adventurer II offers a total of nine cabins:
Three standard cabins (double-occupancy)
Six premium cabins (double-occupancy) with larger floorplans and better views
Cabins are bright, spacious, and modern. Every cabin offers:
Individually controlled air conditioning
Large windows
Toilet and unlimited hot water shower
Hand basin, mirror, soap, and bath and deck towels
Twin round pin 220V and 110V mains outlet - 24 hours per day
Cabinets, table and shelves
Lockable drawers
Reading lights
The spacious dining lounge is located on the upper deck and has both an inside and outside seating area to suit the climate and the meal schedule. The ship's gift shop is also located within the dining lounge. Steps leading upward from the outside dining lounge lead to a giant sundeck where you may relax between dives or at the end of an exciting day.
On the main deck is the multi-purpose lounge and camera work area. Bigger than many liveaboards' dedicated dining areas, the lounge and camera area is capable of supporting several photographers, their gear and charging needs. Four large tables and a separate charging bench are surrounded by comfortable seating and large windows.
Quite simply, no liveaboard accommodates divers (and especially photographers) more comfortably than the Archipelago Adventurer II!
Meals & Drinks
The dining experience on the Archipelago Adventurer II matches or exceeds that of most gourmet Indonesian restaurants.
Breakfast is served in two stages: a light continental-style before the first dive, and a full ordered breakfast ready as you come out of the water. Lunches and dinners show off a tremendous variety of cooking styles and ingredients, although an emphasis on local options is made. Lunches are served buffet style and dinners are prepared in organized courses. Meat and fish dishes are accompanied by several side dishes, followed by a delicate dessert.
In between dives, you'll never find yourself hungry since there are always biscuits, cakes and other treats fresh from the galley. Fresh fruits are always available.
Most drinks are offered free of charge, including water, soft drinks, coffee and tea. Beer is priced at $3/bottle, and wine is $20/bottle.
Diving
An average of 4 dives are scheduled per day (including a night dive), with some exceptions on travel days or for land excursions.
Diving operations are managed by Archipelago's diving instructors and dive guides, some of which have decades of experience. All dives are guided for safety reasons, but guides are careful to give you all the freedom you need and want. Staff are particularly mindful of photographers and will allow you to take time to work with subjects, and to move at your own pace. Dive equipment remains assembled at the side of the vessel and is loaded by the crew onto speedy aluminum tenders which transport divers to each site...no need to haul your own gear around!
Land Excursions
Every cruise includes the opportunity for at least one scheduled land excursion. However with advance notice, you are generally welcome to request a ride to shore if you'd prefer to explore land instead of sea!